Products
Polycarbon Hydraulic
---
Polycarbon Hydraulic

Unique Polywest construction made of high-quality carbon fibers and multiple layer structure for long-term use.

With the POLYCARBON adapters, Polywest offers a three-stage system for flexographic printing. All POLYCARBON
adapters have a wear-resistant and robust carbon surface that, in addition to vibration dampening, also withstands
frequent handling or sleeve changes. Polywest develops and qualifies its adapters in cooperation with well-known
leading machine manufacturers in order to meet the quality standards and expectations of OEMs and packaging
printers.
Extremely smooth printing at maximum machine speed
High performance carbon surface made by Polywest
Proven hybrid technology in combination with steel discs
Excellent printing performance through multi-layer structure
Manufactured on original hydraulic shafts from OEMs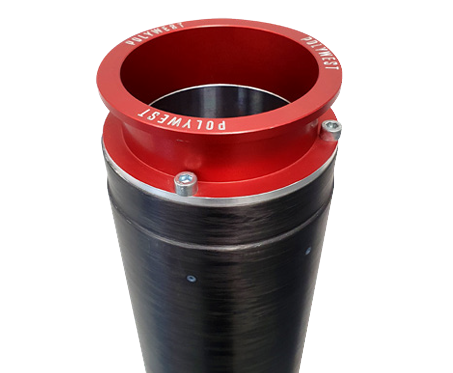 Product features
---
DIMENSIONS
Adapter length 250 mm – 2500 mm (DIN ISO 2768 T1 m)
Format length Bis 2100 mm
Wall thickness 15,9 mm – 150 mm
Special sizes on request
Additional information
and technical data.
---